ISEN supports #Emerging Proud global event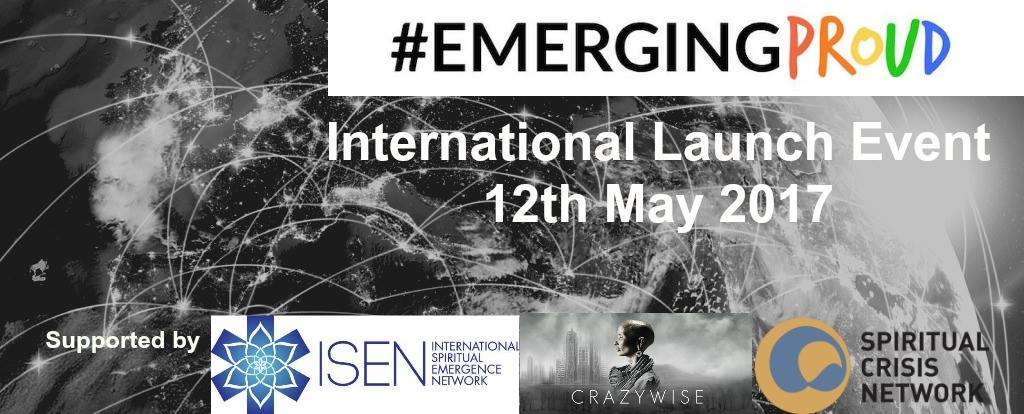 International #Emerging Proud Launch: Premiere screenings of CRAZYWISE and #Emerging Proud films, and Open Space event to 'Re-think Madness'
WHAT IS HAPPENING?
Your participation shapes the outcome! Join us for the first ever International #EmergingProud day of connection and innovation happening simultaneously in 8 or possibly 10! countries around the world. Be part of catalyzing discussions about 'Rethinking madness';Exploring The Wisdom Of Falling Apart: from Stigma to Transformation.
Together we are creating a new global movement towards a dream we all share…
HOW WE GOT HERE:
We know that severe psychological distress is an ever-growing emergence problem for humanity. We know there is something inherently problematic with our current Western medical approach to mental health. The transformation potential of psychological crises into positive growth has never been examined by the medical model. The lived experience of many individuals, (indigenous communities included), speaks to this truth, bridging worlds and bringing new understanding. CRAZYWISE and #Emerging Proud add powerful voices to the growing conversation that believes a psychological crisis can be an opportunity for growth and potentially transformational, not a disease without a cure. None of us have the answers to what can be done alone; we need to join forces to explore what we can do to support this shift in perspective; Are you with us?
WHERE IS IT HAPPENING?
The main hub for this International event is happening HERE in Central London at the beautiful Strand Palace Hotel – and YOU can be part of the LIVE events! Listen to all of the countries call in LIVE at the end of the day with the initiatives that have been catalysed!
THE DAY PRESENTS THE OPPORTUNITY TO:
Come armed with an open- mind, open- heart and share your passion to support the shift; your voice is important. Join us in a powerful group process to quickly catalyze and support positive transformation through inspiring creative and collaborative solutions to these complex issues. Harness International wisdom through the energy and ideas we create together with our passion for change. Share your ideas, passions, and possibly inspire others to join you in carrying a particular project forwards… This is an interactive, inclusive event; please bring your laptop, cameras, notebooks and pens!
Schedule for the day
9:30 Introduction to #Emerging Proud and the day ahead
9.45 We'll kick off the day with a FULL EXCLUSIVE screening or the new film CRAZYWISE
Crazy…or wise? The traditional wisdom of indigenous cultures often contradicts modern views about a mental health crisis. Is it a 'calling' to grow or just a 'broken brain'? The documentary CRAZYWISE explores what can be learned from people around the world who have turned their psychological crisis into a positive transformative experience.
11.00 Break
11.20 CRAZYWISE discussion session – With PHIL BORGES, PRODUCER, LIVE WITH US IN LONDON!
11.45 Introduction to Open Space; instruction for the afternoon's event by ROZALIA KOVACS – NAPIER of ISEN
12.00 OPEN SPACE Marketplace – The opportunity to share your ideas for discussion topics and choose the sessions you are passionate about engaging with in the afternoon.
13 – 14.00 Lunch break*
14.00 – 17:00 Open Space main event
17.00 – 18.00 Harvest: EP Reps to call in LIVE to tell us what exciting developments are happening around the world in each country!
18.00 Dinner break*
19.15 Harvest feedback
19:30 #Emerging Proud FILM PREMIERE!
21.00 Harvest feedback
21.15 Post celebration party!
Please come and join us in creating the emerging paradigm for the future of mental health. We promise that this event will allow the space for every voice that wants to be heard, to be heard. We promise that all action points harvested from the day will be shared with all attendees in all countries taking part, and that a follow- up will happen.
More about Open Space
FAQs
Lunch and Dinner
* Drinks and snacks are provided throughout the day, but catering for lunch and dinner is not included – there are plenty of eateries in and very close to the venue; a huge choice of restaurants, cafes and bars, just a hop, skip and jump away for you to enjoy! Don't forget to come back on time though! ????
What is the closest tube station to the venue?
Caring Cross, Temple and Covent Garden are all just minutes away from The Strand
What's the refund policy?
Full refund available up until 2 weeks prior to the event. After this time no refunds are possible unfortunately due to having to confirm numbers with the venue.